Young Living
Super Cal
Retail: $32.57 USD
Wholesale: $24.75 USD
Stock Number: #3244
Super Cal™ is a specially designed calcium and magnesium supplement formulated to take advantage of the synergistic properties of these important minerals. Calcium is essential to the health of bones, teeth, and muscles, and it also plays an essential role in blood clotting, nerve conduction, muscle contraction, and many cellular functions. Magnesium activates more than 300 enzymes in the body and, with calcium, affects nerve and muscle functions. This combination also includes potassium as well as zinc, which is an important mineral in many body functions.*
Take 2 capsules right before each meal or as needed.
Keep in a cool dry place. Do not expose to excessive heat or direct sunlight. If pregnant or under a doctor's care, consult your physician.
Ingredients

Click the image below to enlarge.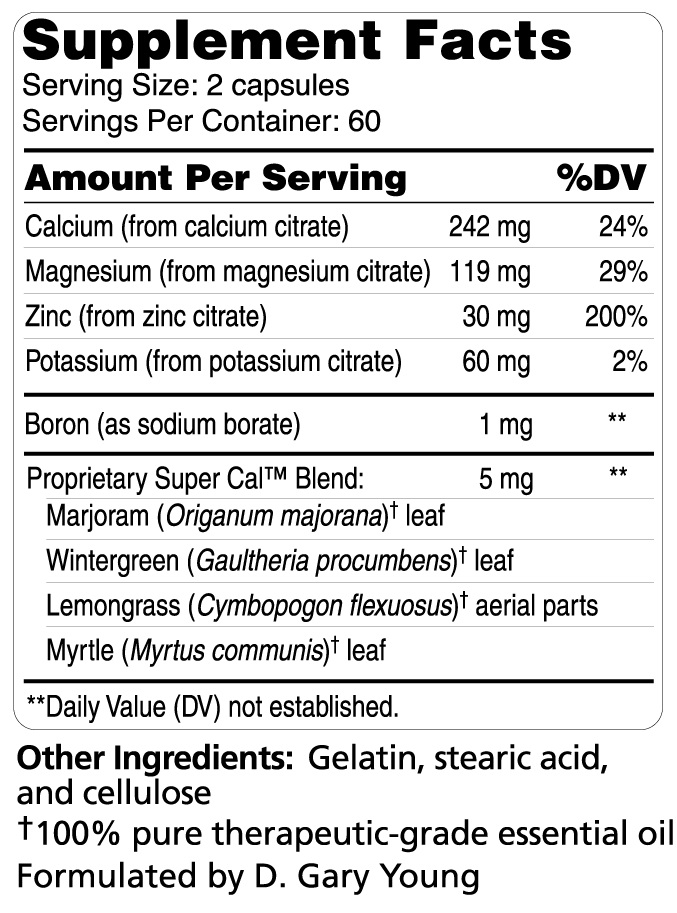 †Young Living Therapeutic Grade™ essential oil
Young Living September Promotion!
Cautions & Disclaimer
*These statements have not been evaluated by the Food and Drug Administration. Young Living products are not intended to diagnose, treat, cure, or prevent any disease.

*Keep out of reach of children. If pregnant, nursing, taking medication, or have a medical condition, consult a healthcare practitioner prior to use.

*Modern scientific research has not yet validated these traditional claims.
YL #899522