Young Living
Estro
Retail: $18.42 USD
Wholesale: $14.00 USD
Stock Number: #3257
Estro™ is an herbal tincture formulated to support the female glandular system and to foster a normal, healthy attitude during PMS.* It contains plant-derived phytoestrogens, including black and blue cohosh, which are used extensively in Europe, along with clary sage essential oil, which contains sclareol, an essential oil phytoestrogen.
Take 3 half droppers (3 ml) two to three times daily in distilled water, or as needed.
Shake well before using. Refrigerate after opening.
Keep in a cool dry place. Keep out of reach of children. Do not expose to excessive heat or direct sunlight. If pregnant or under a doctor's care, consult your physician.
Ingredients

Click the image below to enlarge.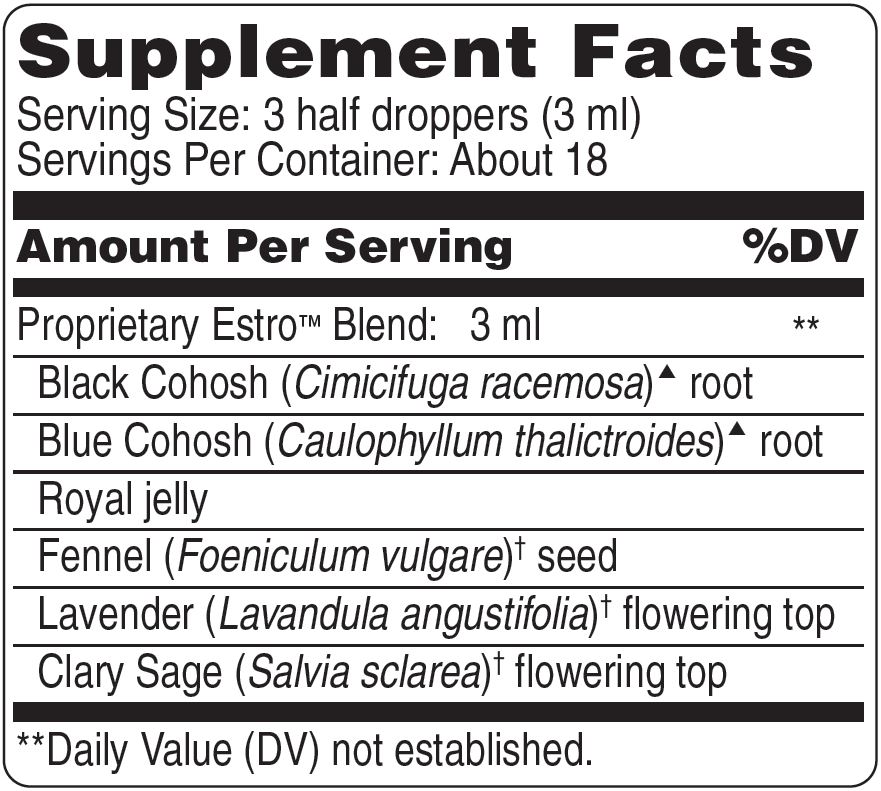 †Young Living Therapeutic Grade™ essential oil
Young Living October Promotion!
Cautions & Disclaimer
*These statements have not been evaluated by the Food and Drug Administration. Young Living products are not intended to diagnose, treat, cure, or prevent any disease.

*Keep out of reach of children. If pregnant, nursing, taking medication, or have a medical condition, consult a healthcare practitioner prior to use.

*Modern scientific research has not yet validated these traditional claims.
YL #899522